With the objective of maximizing the value of Member relationships (both in terms of deepening share of wallet and becoming the Member's ultimate provider of choice), a well designed member experience explores and identifies the full breadth of Member needs, and provides for seamless sales fulfillment across all business channels.
Designing the Member Journey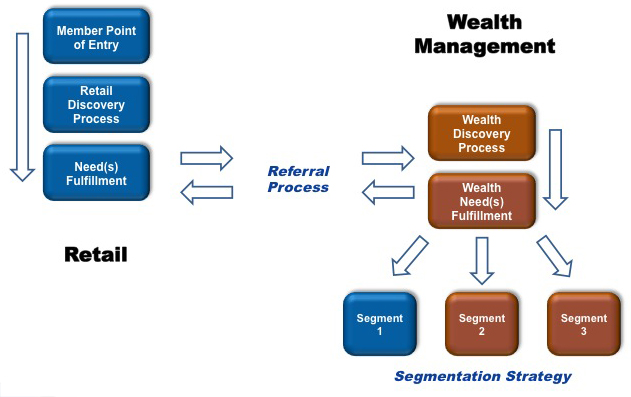 The moments of truth along the member journey are as follows:
Di

scovery: As per the image above, regardless of whether the Member's first point of contact is through the Retail channel or the Wealth Management channel the experience begins with a holistic discovery process that builds an understanding of the Member and assesses their primary, secondary, and future product needs and potential.
Referral: To capitalize on identified needs a formal, guided referral process helps ensure Members are directed to the appropriate channel for sales fulfillment and made aware of the broader product and service offering available through the Credit Union.
Segmentation and Sales Fulfillment: In recognition of the broad range of Member needs across lifestyle and life stage, a segmentation model helps bring structure and definition to the wealth management sales fulfillment process. The end result is a model that provides product and service solutions of well defined breadth and complexity, and meets Member needs in a consistent fashion, across branches and advisors.
For further information, or support in validating your wealth management member experience, please contact us.