The architecture of a successful Wealth Management delivery model rests on four foundational pillars; the Advisor Environment, the Member Experience, the Supporting Infrastructure, and the selection of key Business Partners.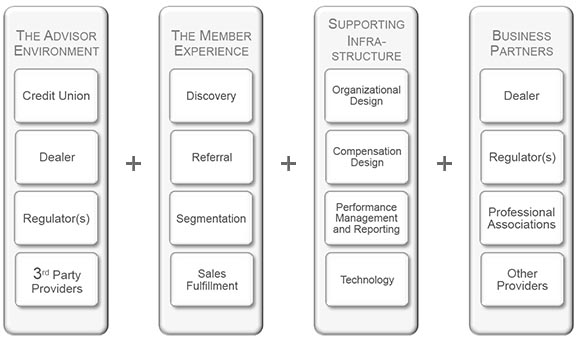 Summary of the strategic contribution of each of these components.
1. The Advisor Environment consists of all things that contribute to the personal, professional, and member-related experiences of the Advisor, and is shaped by a number of entities. Collectively, these entities create an environment that enables the growth of sizeable, sustainable books of business, the deepening of Member relationships, and promotes the attraction and retention of top-tier Advisors.
2. The Member Experience consists of the full member journey, from first point of contact through to fulfillment and ongoing relationship management. A well designed Member experience provides for seamless sales fulfillment across all business channels, and maximizes member relationships (both in terms of deepening share of wallet and becoming the member's ultimate provider of choice).
3. The Supporting Infrastructure defines and operationalizes the Advisor environment, institutionalizes the Member experience, and provides effective management systems, oversight and controls.
4. The advisor environment and member experience are further enabled through the collective contribution of several key external entities — Business Partners. As such, the wealth management strategy should contemplate the thoughtful, informed selection of dealer partner, regulatory bodies, licensing agencies, as well as other peripheral service providers to ensure alignment with the overall value proposition.